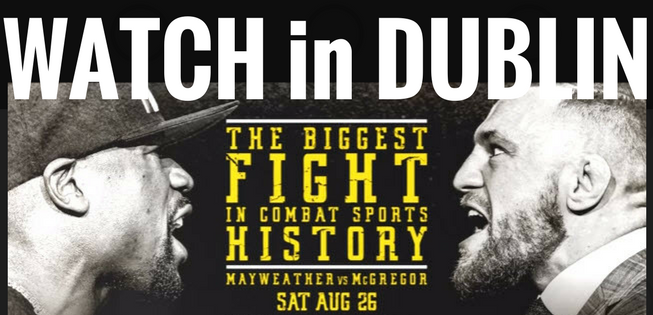 Everyone is talking about the fight between Conor "The Notorious" McGregor and Floyd  Money" Mayweather right now!
The fight is tomorrow the 26th of August in Las Vegas!
First of all, from what we know no sports bars are showing this fight due to the time. The main event begins at 4am BST, but the fight itself may start closer to 5am (Irish time)…
But you can watch this fight in Dublin!
Watch Conor McGregor's fight in Temple Bar at Sin Nightclub
Doors open at 10pm and since it's a nightclub you can show your best moves and warm up before the fight!
You have to book in advance here (some tickets left): https://www.eventbrite.ie/e/doubt-me-now-mcgregor-vs-mayweather-live-viewing-tickets-35573444129#tickets
Watch Conor McGregor vs Floyd Mayweather in Dublin 
Other places with more details from this great article: https://lovindublin.com/sport/5-places-to-watch-the-mcgregor-fight-this-saturday-night
And to summarize:
Vue Cinema, Liffey Valley
 Tickets are €20 for adults and €17.50 for Students and Seniors. You can book your tickets online: https://www.myvue.com/cinema/dublin/event/mayweather-vs-mcgregor/times
The Wright Venue, Swords
Price: €15
Tickets: https://www.eventbrite.ie/e/mcgregor-vs-mayweather-live-screening-tickets-37248165265?aff=event
Same as for Sin nightclub, you can put on your dancing shoes and warm up before the fight!
Tamango Nightclub, Portmarnock
Price: €14 to see  the fight in Portmarnock
: https://www.eventbrite.ie/e/mcgregor-v-mayweather-tickets-37008376049
Watch McGregor VS Mayweather at home
Price: €24.95
Sky Sports Box Office will show the fight for €24.95 in the Republic of Ireland. You can buy the fight here or from Virgin Media here:  https://www.virginmedia.ie/ppv/
Mayweather vs McGregor: Final Press Conference
Two great champions but only one winner
Floyd Mayweather, 40 years old, is yet undefeated, with 49 victories to his record. Retired since 2 years, the world champion in 5 different boxing categories is making an exception by returning to the stage to compete against the MMA Irish legend. 
Conor McGregor is only 28 but he's surely a huge opponent for the American star, with his 21 victories, he's the most famous fighter in MMA.
A challenge for McGregor
The fight will follow the English boxing rules, which could be a problem for the MMA Irish star as he's used to fighting under UFC rules and conditions: smaller gloves and some techniques that aren't allowed with English rules, such as leg kicks or takedown. Moreover, some great stars of the field are betting on his defeat. Lennox Lewis, triple champion in juggernauts, thinks the fight is useless as the Irish fighter will be trashed by Mayweather. For others, the American champion has more experience and techniques than his counterpart, which is a huge advantage for him. So, the question is: who will win this epic fight?
Fight is in the air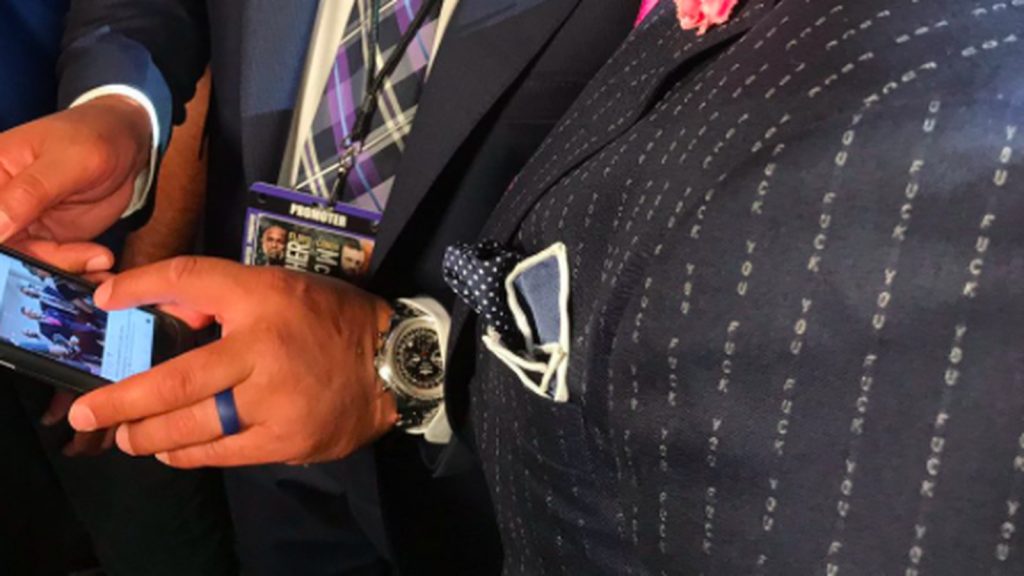 The pair did a giant promotional tour together, in order to attract more sponsors and spectators. In each of these meetings, the two fighters faced each other in front of a wild crowd and the air between them was electric. They teased each other all the time in order to prove who is the boss. But the most iconic offense was from McGregor when he wore a striped suit which was in fact stripes with the word "F**K You".
Eager to fight and to see who will win, the two legends are preparing themselves for the encounter tomorrow.