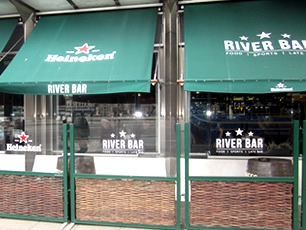 1 Burgh Quay, O'Connell Bridge House, Dublin 1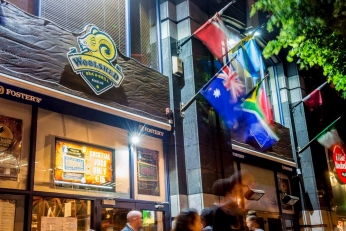 Parnell Centre-Parnell Street - Dublin 1
Sunday 23rd October

Monday 24th October

Tuesday 25th October

Wednesday 26th October


Bar with schedule

Sports bars in Dublin
Sports in bars: What is it?
Basically, it is a search engine that browses a database which contains the sport events schedule for each bar/pub member, as well as general information about the bar or pub.
Sports in bars: Why?
Because it's not easy to know where the sport event you want to see is shown when you are new in Dublin or anywhere in Ireland!
Picture the scene: You are trying to watch the football or the rugby, but the pub your in is full and you need a quick alternative. Perhaps you've just finished a meeting in the other side of town and you have to find somewhere to find Aussie Rules champions elect Hawthorn Hawks*. Maybe you are itching to find the nearest place in Parnell Street to watch a match between Gibraltar and Georgia, that could decide Ireland's fate in European championship qualification. With all these scenarios in mind, chances are you could do with our help!
Sports in bars: How does it work?
Simply!
Enter your search criteria: sport, competition, match and the city/area in which you want to find pubs/bars covering the sport event.
Click on "Find" and you will get a list of bars and pubs showing the sport event you want to watch.
Whether it is about Football - Soccer - 2015 Champions League (Juventus vs Barcelona) - 2014 FIFA World Cup Brazil - UEFA Champions League 2010-2011 (Click here for dedicated page) - World cup 2010 (see our dedicated page) - Euro 2012 - Premiership - Champions League - Rugby league - 6 Nations - Formula 1
Grand Prix - NBA Basketball - Ice hockey Stanley Cup - GAA Football - Hurling - Golf - Cricket - Olympic Games - UEFA Cup - All Ireland Cup - FA Cup - NFL American football - Superbowl - Super bowl - AFL Australian rules -Tri-nations - la Liga - Calcio ...
As long as it's about watching sports in a bar or a pub in Dublin or anywhere in Ireland,
sports in bars is the website that will help you find out the best bars and pubs in Dublin, Cork, Galway, where you can catch the match!
Some sports bars in Dublin and sports pubs in Dublin :
Trinity Bar, River Bar, Living room, Murrays, Czech Inn, Mc Gowans, The Lotts snug, JW Sweetman, The Bankers, Harrys on the green,  The 51 bar, Doyles, Fitzgeralds, Fitzsimon, Foggy Dew, Gin Palace, Hill 16, Hogans, Odeon, Oliver St John Gogartys, Peadar Kearney's, Sinnotts Bar, The Baggot Inn, The Bridge, The Leagle Eagle, The Lotts, The Mercantile, The Oak, The Quays Bar, The Temple bar, The Woolshed (Australian bar), Cuckoos Nest,Turks Head, Winters bar.
Sports bars in Galway :
Cellar Bar, Living Room in Galway
Sports bars in Cork and sports pubs in Cork :
Reardens, Rob Roy Sports Bar
And soon Sports bars in Limerick, sports bar in Kilkenny, sports pubs in Waterford will be inserted in our database.
Looking for sports pubs dublin, sports bars Dublin, 2013-2014 Champion's league bars dublin or premiership pubs dublin...enjoy with sports in bars !
Other links